ONE COLOUR T-SHIRT PRINTER
Ideal for a hobby, schools, in-house printing or small business.

A compact One Colour table top T-shirt printer complete with a kit of inks, board glue, screen and squeegee. Included in the price is the first A3 design free and a free demonstration held at our Johannesburg offices.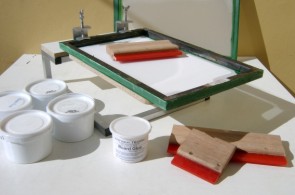 • Suitable for printing on all fabrics such as children & adult T-shirts, sweat shirts, towelling, denim, bags etc.
• Easy location of the screen in a sturdy and adjustable clamping system
• Accurate registration for additional coats of ink
• Easy grip squeegee
The kit comes complete with:
Screen for A3 prints (or two A4 prints)
24 cm Squeegee
250g Board Glue
4 x 500g waterbased Textile Inks (black, blue, red and yellow)
and FIRST A3 ARTWORK AND EXPOSURE FREE!
Optional extras:
Kit of water-based textile printing bases and pigments, fixatives and special effect inks.
T-shirts printed with water-based inks require curing. Use an iron, heat press or tunnel oven to cure (set) the ink. See curing instructions.
[Packing size: 61x45x30cm 15kg's]
The printer will be fully demonstrated to you at our Johannesburg offices.