PHOTO EMULSION AND
SCREEN CLEANING CHEMICALS
We carry a comprehensive range of solvent resistant, water resistant and dual-use emulsions required for the Screen Printing industry. Follow the easy instructions of how to use our screen cleaning chemicals for reclaiming screens for re-use.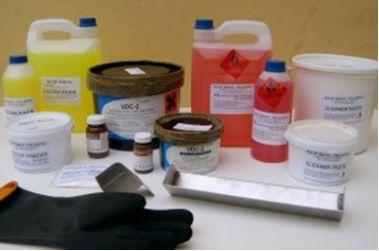 • Diazo Photo Emulsion
• Decoat Powder (see dilution instructions on the package)
• K4 Ghost Image remover (dry ink solvent / ghost image remover)
• Cleaner Paste (Caustic based cleaner)
• Degreaser (dilute as per instructions on the bottle)
• Screen Block-out (touch-up filler)
SAFETY PRECAUTIONS: Use chemical resistant rubber gloves and protective eyewear when working with chemicals.
See our cleaning Instruction information sheet.
Visit http://www.chromaline.com/technical_articles/ta_basictraining.pdf
To set up a Screen Darkroom you will require an environment lit with yellow light. It is best to break the area into four sections: screen cleaning section (with good ventilation), screen preparation area, screen exposure area and washout bay.
See our recommended Darkroom Layout.