SCREEN STRETCHING SERVICE
Keip Bros. Trading Co. (Pty) Ltd offers a state of the art screen stretching service to the exacting standards of the modern screen printer.
Please contact our sales department for the cost of stretching a screen with our quality Swiss manufactured screen fabric with ISO 2000 rating. Visit www.sefar.com for more information, technical data and specifications.
Welcome to Sefar Printing Division
The Sefar Printing Division manufactures a wide range of high-quality, precision mesh for screen printing. Pneumatic stretching systems and precision tension measuring instruments are complementary products for the stretching process. Sefar also offer extensive applications engineering expertise, ensuring that its products deliver optimum performance in the field. In the future, Sefar will maintain the world leadership in its core competence, the marketing, application engineering and manufacturing of synthetic woven media, while changing from a very successful monofilament mesh seller to a globally acknowledged problem solver and benefit provider for screen printing applications. www.sefar.com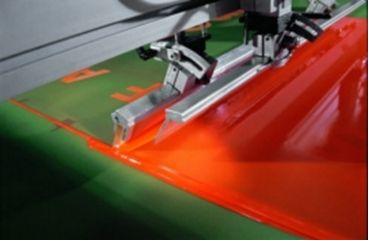 Mesh available in a wide variety of mesh counts in Polyester, Nylon and Stainless Steel.